Send Inquiry
A company and a reliable partner for you to avail outstanding quality of PET Straps, PET Strapping tools and many more....
About Us

Our company Patel Strap Industries has emerged as one of the most eminently working business entities that has been designated as the largest strap Manufacturer of India. We take complete pride in presenting optimum quality of straps to the customers and ensure that each one of our offerings is made from the best grade raw material and is processed under sincere adherence to foreign principles. The product portfolio of our company includes PET Strap, PET Bales and many more. Each one of our offering is developed with an aim to earn customers reliability, and the features such as trusted performance, high tensile strength, cost effectiveness, etc has proven our products to be a viable alternative. We enjoy close proximity with our exporting countries and create strategic marketing policies to draw attention of national and international clients towards our unmatched range.


The straps we manufacture can be made according to the specified needs of the customers as we work with only one motive which is to keep the customers of our company highly satisfied. The PET straps we cater to the customers are offered under the brand name Patel Strap. Also, with our commendable array of products we provide the distinguished quality of PET Strapping Tools so that we can cater an end to end strapping solutions to the customers.
Infrastructure

The company is nestled in Bhavnagar (India) and has maintained a sound facility that is completely acquired with the most advanced technologies. The facility is divided into several parts and is integrated with the most adroit team of personnel. With the help of promising functioning of our unit, we are able to acclaim leading position in this line of business. Below are some of the departments we have maintained in our facility:-

Quality checking unit
Manufacturing facility
logistics wing
Research and Development unit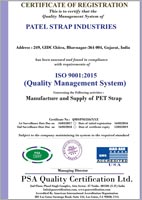 Latest Trade Offers
Truly committed to our sole motto to provide quality product, we at "PATEL STRAP INDUSTRIES" are engaged as Exporter, Manufacturer & Supplier of Indu..
Blessed with high enthusiasm and professionalism, we at "PATEL STRAP INDUSTRIES" are eminently engaged as Exporter, Manufacturer & Supplier of SS Coil..